REDEZEIT, 30-channel light installation, 2003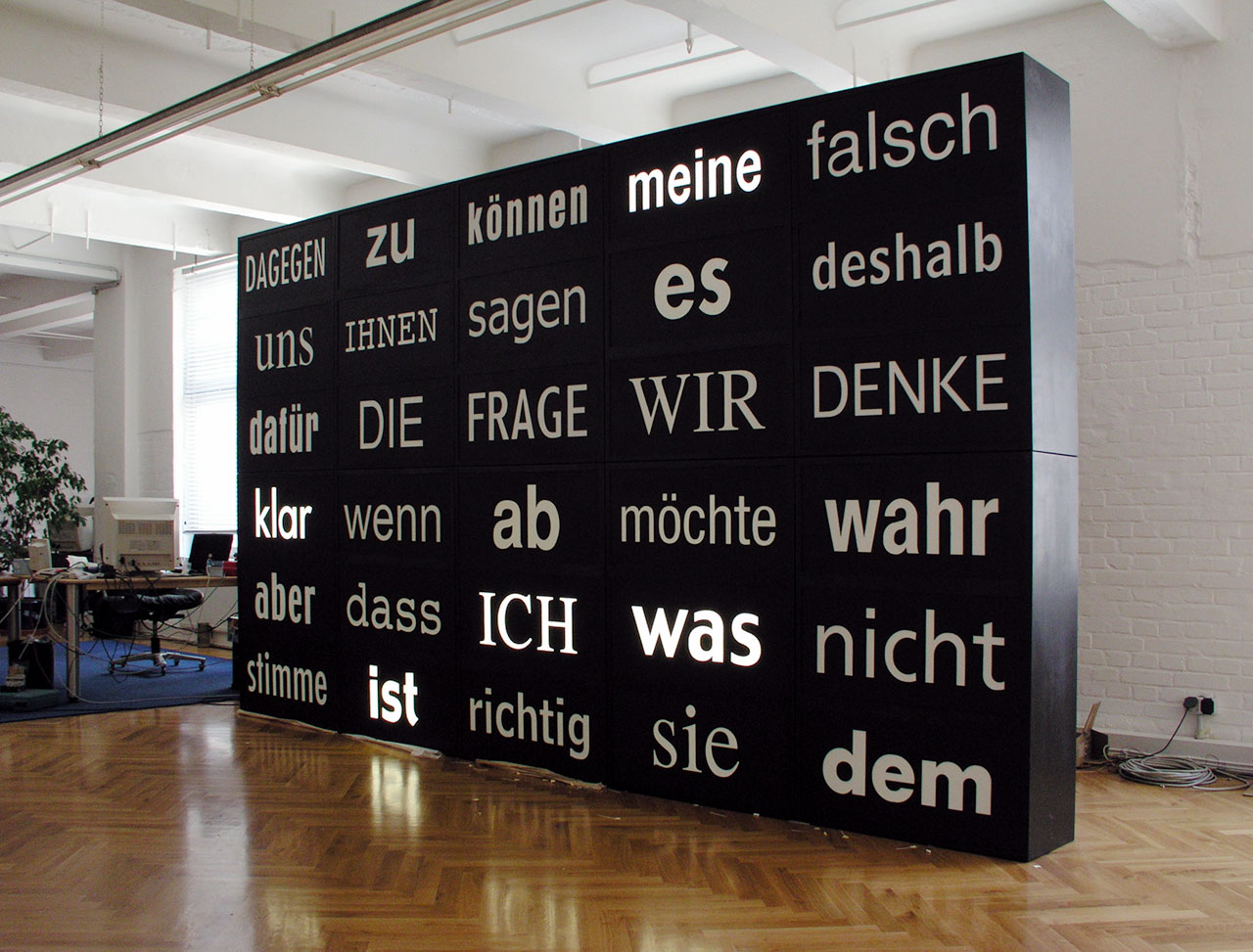 30-channel light installation,
Permanent installation on the Representation of the Federal State of Brandenburg and Mecklenburg-Vorpommern to the Federation, Berlin
Dimension: 500 x 300 cm, total time: 6,5 h, 2003
Technical support: Neue Medien Projekte, Berlin

Die Lichtinstallation besteht aus dreißig unterschiedlichen typografisch gestalteten Worten, die in einem Raster angeordnet sind. Die einzelnen Wörter heben sich durch ein aufeinander folgendes Aufleuchten ab, um am Ende wieder zu verblassen. Die elektronisch gesteuerten Wortfolgen entsprechen typischen Satzanfängen, wie sie im politischen Alltag des Debattierens häufig verwendet werden. Sie sind vergleichbar dem akustischen Herausfiltern einzelner Zwischenrufe oder spontanen Meinungsäußerungen in verbalen Streitgesprächen auf Diskussionsveranstaltungen oder Demonstrationen. Die inhaltlichen Aussagen sind auf die Willensbekundung "etwas zu tun, einer Idee, einer Sache zuzustimmen, sie abzulehnen, etwas zu verändern" beschränkt. Ausgehend von politischer Mündigkeit, Demokratie und dem Willen zum gesellschaftlichen Engagement bedarf es des engagierten Bürgers und deren gewählte Vertreter die Satzanfänge mit den entsprechenden Inhalten auszufüllen.
…
The light installation is comprised of thirty differing typographically-designed words that are arranged in a grid. The individual words raise themselves through a lighting-up in sequence, to dim again at the end. The electronically-steered word-orders correspond to typical sentence beginnings, as they are frequently used in the daily routine of political debate. They are comparable to the acoustical filtering-out of individual heckling or spontaneous utterances of opinion in disputes at discussion meetings or demonstrations. The contentual assertions are confined to the announcement of intention "to do something, to approve of an idea or a thing, or to reject it, or to change something". Proceeding from political responsibility, democracy and the will for societal commitment, the committed citizen and his elected representatives need to fill out the begun sentences with the appropriate contents.